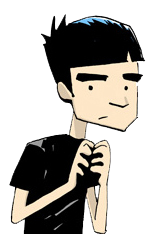 Phillip Ginn is an illustrator, writer, and designer based in Sacramento, CA. He is currently the Director Of Visual Communications for the Sacramento Asian Pacific Film Festival and a graphic designer and marketing assistant for a local ecommerce company. He has done marketing graphic design and illustration work for large and small businesses and non-profits, and has served time as a freelance writer. He has self-published comics for both print and web and fulfilled private illustration commissions. Illustration clients include Mel's Diner, DISRUPT Marketing, Weber Chiropractic, and others.
In 2009, Phillip took a break from comics to do some musical and culinary things. But, in 2014, he once again picked up his pencil and pen to focus on comics and other illustrative endeavors as his life's work.
In another life, Phillip is also the owner of PolyOmni Music, an online retail site featuring original sheet music, currently specializing in the marching arts. He taught drumlines and drumset for over 18 years, beginning in 1995, and has composed for and sold music to several ensembles across the U.S. and as far as Beijing, China. He has performed in several local ensembles that include the Hei Gu Chinese Percussion ensemble, the Mandarins Entertainment/Sacramento Kings Corp Drumline, and the Mandarins Drum and Bugle Corps. He's also a veteran of a couple local rock bands.
Phillip would also not hesitate to be a stowaway in the TARDIS.
Here are some nice words people have said about working with Phillip.